The Consequences of a Misdiagnosis: Grzegorz's Journey to His Cochlear Implant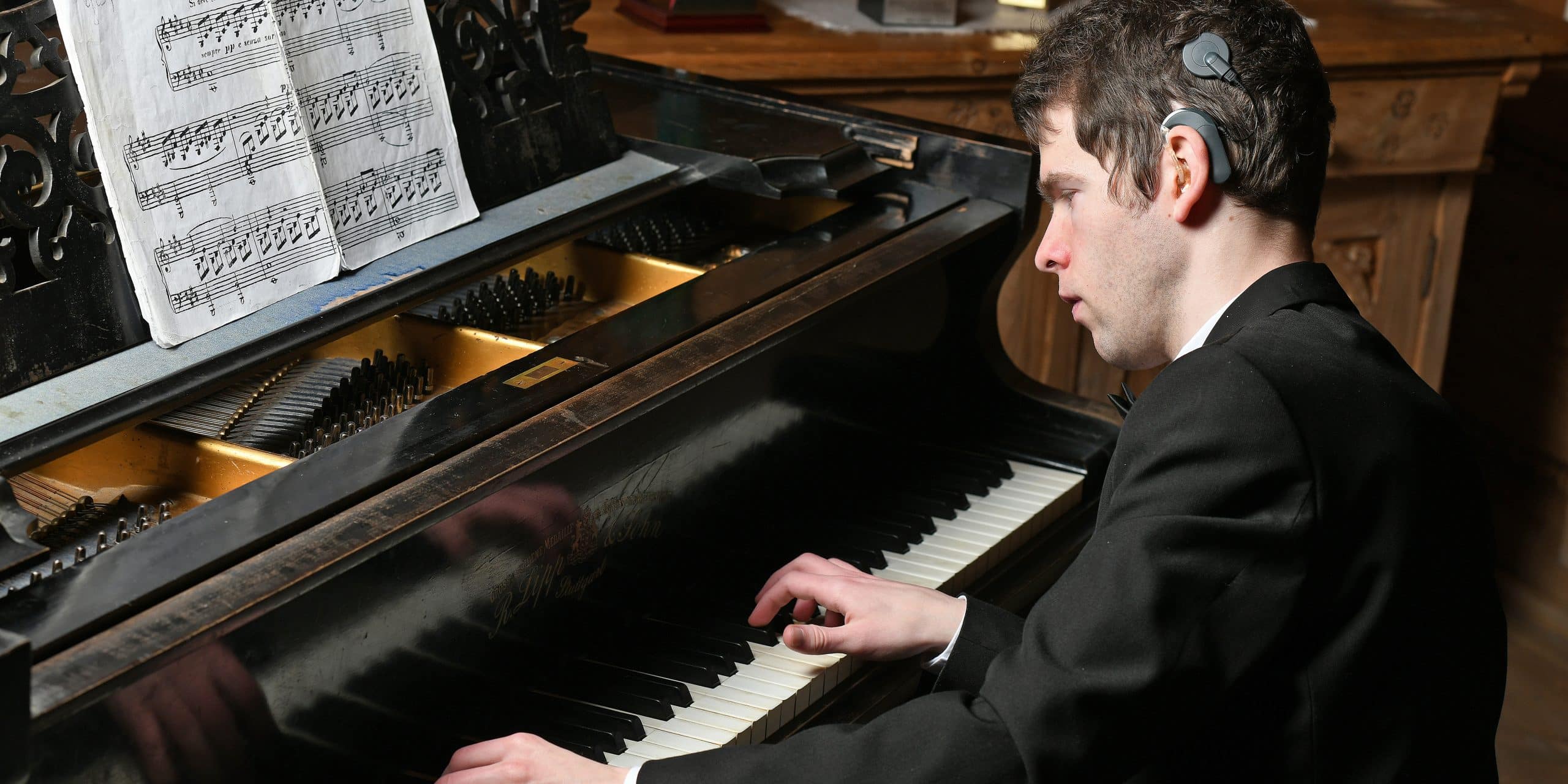 Misdiagnosed as autistic, Grzegorz Płonka spent most of his childhood in a school for children with mental disabilities and was unable to speak. This changed when he got diagnosed with profound sensorineural hearing loss at the age of 14 and received his cochlear implant five years later. The Polish film SONATA shows his hearing journey and how a cochlear implant enabled him to become a talented pianist. In this article, Grzegorz tells us more about his childhood with hearing loss, his opinion on SONATA, and the mission he is on.
My name is Grzegorz Plonka, I'm 33 years old and from Poland. My biggest passion in life is music, especially playing the piano and the organ. I play classical music and compose my own songs. I also love photography and recording videos for my music.
How I Got Misdiagnosed With Autism
My hearing journey started at my birth. I was born prematurely with a congenital disorder that caused profound sensorineural hearing loss. My parents didn't know about my hearing loss, and I was misdiagnosed as autistic and mentally disabled. As I couldn't hear consonants, I didn't speak at all. I was able to hear simple sounds like vowels, so I started playing the piano and experimenting with sounds.
All those years, I didn't realize I was different. I began to rebel when I discovered that my younger brother went to a different school that offered different subjects. I was in a school for children with mental disabilities and wanted to know the reason why.
For seven years, I lived in an environment for mentally disabled people. It was the only center for people with disabilities in the area, far away from clinics. Even though access to such places was very difficult, we managed to get to the Institute of Physiology and Pathology of Hearing in Kajetany thanks to my persistence and the determination of my parents and friends. At that moment, a new stage of my life began.
The Diagnosis That Changed My Life
A proper diagnosis made it possible to verify my status. It was not until I was 14 that tests at the Institute of Physiology and Pathology of Hearing revealed profound hearing loss.
First, I got a hearing aid, and at 19, I finally got a cochlear implant. Only then did I start to speak, but it was too late for me to master grammar, because I started my proper education at the age of 14, and only completed elementary school level. It's hard for me to use language properly, especially in writing since I was not able to hear during such an important stage of my life.
How Music Led Me to a Cochlear Implant
My love for music made me decide to get a cochlear implant. I really wanted to go to music school but wasn't accepted because I couldn't hear high-pitched sounds. So I decided that something needed to change. I knew that a cochlear implant would allow me to hear the missing octaves.
I have one implant and a hearing aid in my other ear. I use a SONNET 2 audio processor, which works with a hearing aid and an assistive listening system.
No Restrictions With My Cochlear Implant
As I live far away from my clinic, I decided to do rehabilitation on my own by playing the piano. After only five months of daily practice, I was able to reach the peak of my implant's capabilities.
With my implant, I am finally able to play the piano without restrictions.
My implant allowed me to take a leap in speech development, learn new vocabulary, and develop my general knowledge. It has greatly accelerated my education, which is the biggest advantage I experienced. I'm especially thankful to be able to hear my favorite sounds of the piano and organ pipes again.
Since I could hear the highest sounds with my CI, I was able to attend music school and learn my beloved Beethoven's Moonlight Sonata. This was followed by a number of TV and press reports, a documentary, and now a film about my hearing journey.
SONATA: A Film About My Hearing Journey
The film SONATA shows my struggle for a decent life. It was a struggle against the system, against limitations, and for my dreams.
I'm glad that this film was made because it gives hope to many people facing adversity, especially those who are excluded due to communication problems. The effects of living outside verbal communication and social relationships are irreversible.
SONATA is a cry for tolerance for otherness. The film was very well received by people with hearing loss. I have been invited to screenings organized for these communities, and those meetings have always ended in long conversations.
As the protagonist of SONATA, I see it as my mission to sensitize parents of young children to the signals their children send, so that they can read them correctly and react quickly to disturbing behavior. I want to address parents and teachers with my dream of letting children develop their passions. Watch them closely and let your children guide you. They can tell you a lot without speaking. Such attentiveness can help spot a child's problem in time and proper diagnosis can save a child's chance of a happy life.
The advice that I would like to give others with hearing loss is to always look for ways to improve communication with people. It makes life more comfortable and enjoyable.
Thank you, Grzegorz!
You can watch Grzegorz perform at Sound Sensation: The Grand Finale. Streaming for free from October 8th.
Thanks for your message. We will reply as soon as possible.